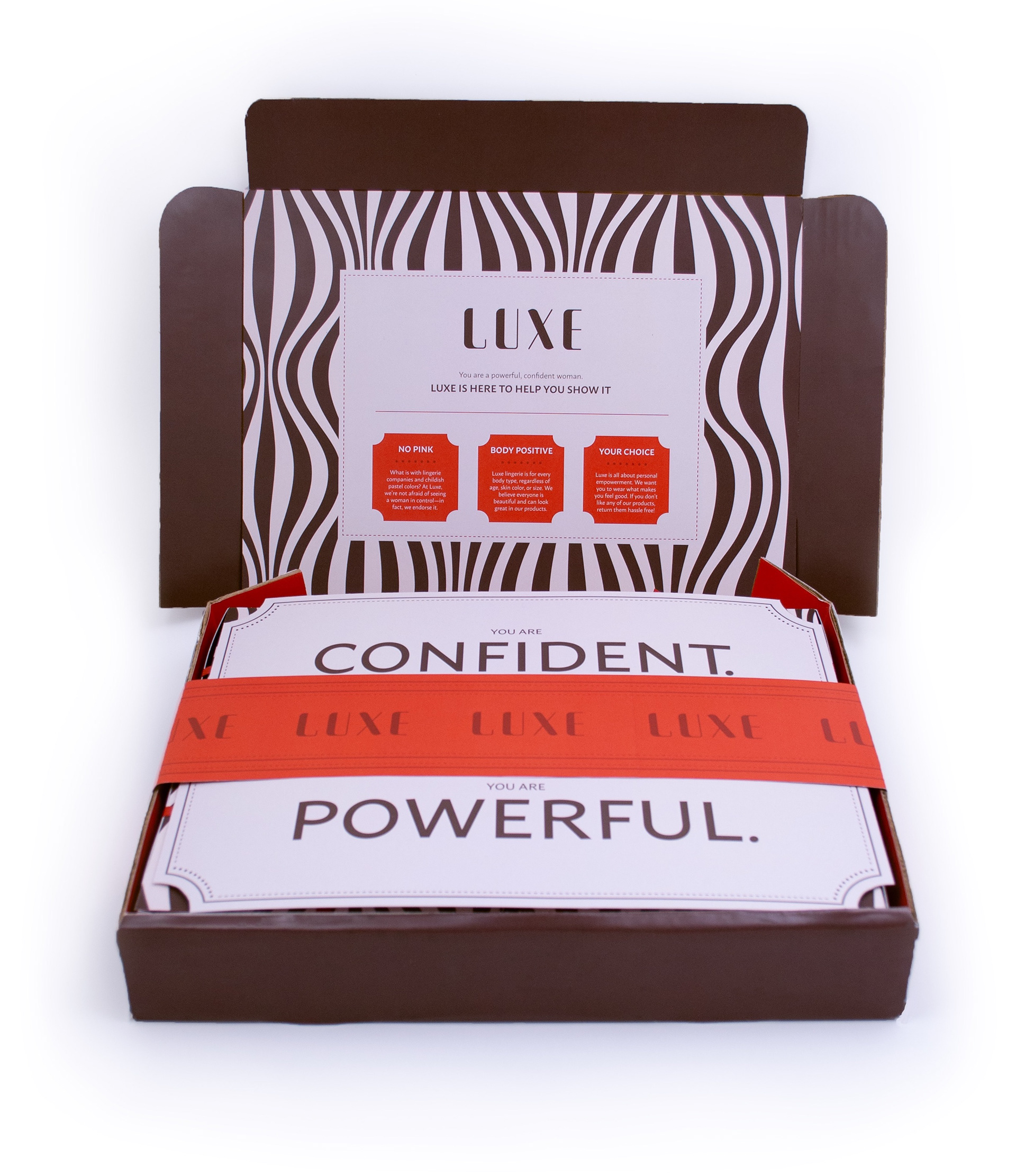 INITIAL BRIEF
Create and brand an undergarment subscription service unlike anything currently on the market.
PERSONAL GOALS
In this project, I wanted to push myself past the project description and make a comprehensive packaging set that felt truly luxurious. Subscription services don't just sell products, they sell completely designed experiences—which is the level of cohesion I wanted to achieve with Luxe. Although the brief was for undergarments, which had the possibility of coming across as inappropriate or unprofessional, I challenged myself to make a sophisticated end product that could be appreciated for its design.
RESEARCH
My first step in this project was to research the competition. As the brief specifically stated that my product needed to be unique, a thorough understanding of the competition was vital before I could decide on my specific brand. I looked at other underwear subscription services like MeUndies, Splendies, Bootay Bag, Empress Mimi, Scarlet Spice Box, Frisky Britches, Skivvie NIX, the Lingerie Box, and Luv My Skivvies, and compared their products, design, and target audiences. I also investigated some more mature lingerie companies like Fenty x Savage, Victoria's Secret, Bare Necessities, Calvin Klein, and Provocateur, who didn't have subscription services but were still extremely popular. 
Looking at the competition, a distinct pattern emerged: most, if not all, of the underwear subscription companies sold 'cutesy' underwear in soft or girly colors. As a whole, the imagery present was young, feminine, and deliberately non-threatening. This left out a huge quantity of the market, and left me with the desire to create a brand for women who wanted their maturity and sexuality to be taken seriously. 
REFINED BRIEF
Create and brand a sophisticated and sensual underwear subscription service for confident women aged 30+, to serve a neglected niche.

THREE DIRECTIONS
After deciding on my general direction, I created three moodboards investigating different ways to approach my end result. All of them took a sophisticated and abstract approach, without photography or imagery of the subject. I hoped that in using only abstraction, the brand would appear more luxurious and also approachable to a variety of people, regardless of their age or appearance. These moodboards, complete with different key words and audiences, were brought to critique before a final moodboard was created.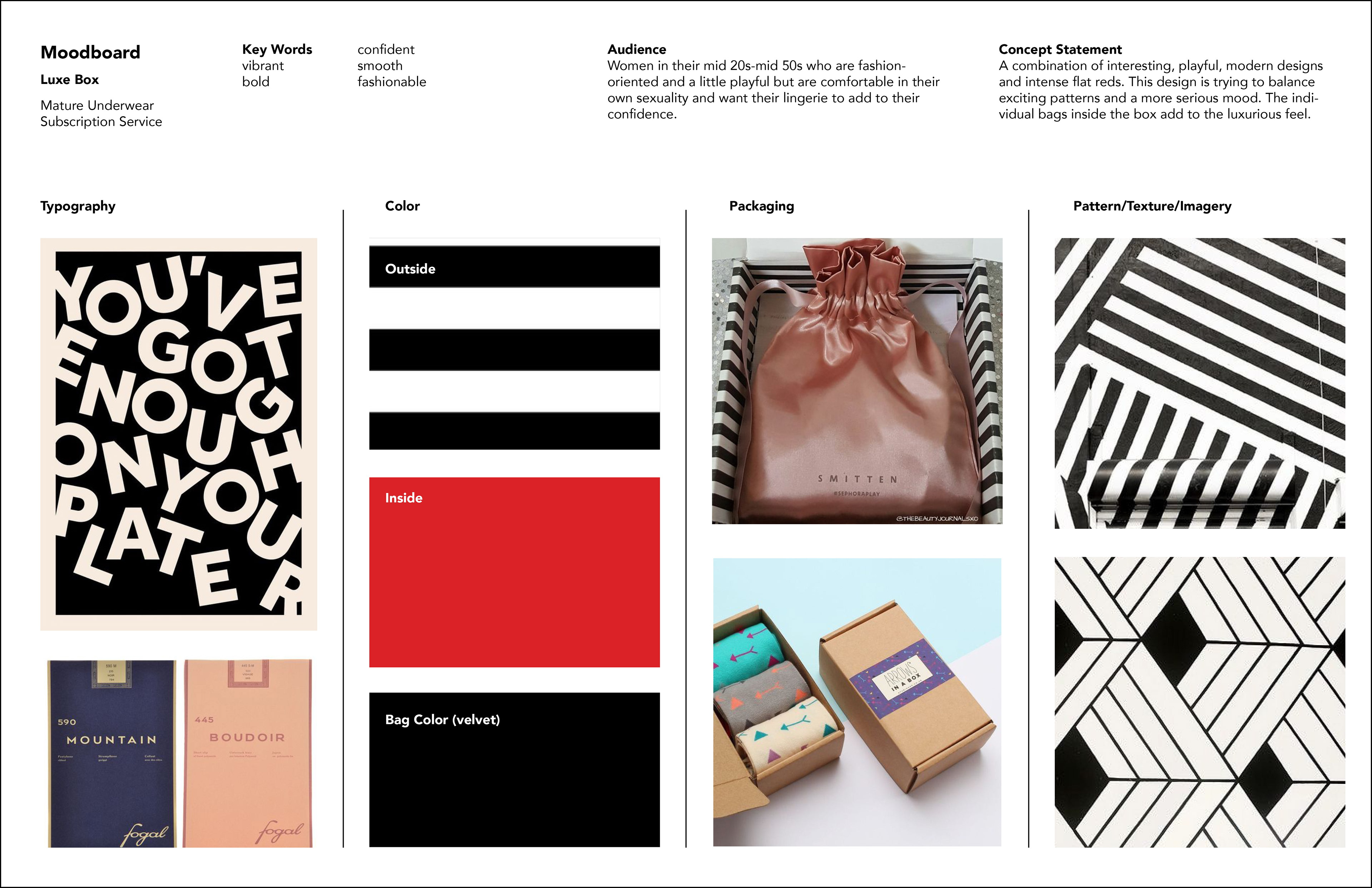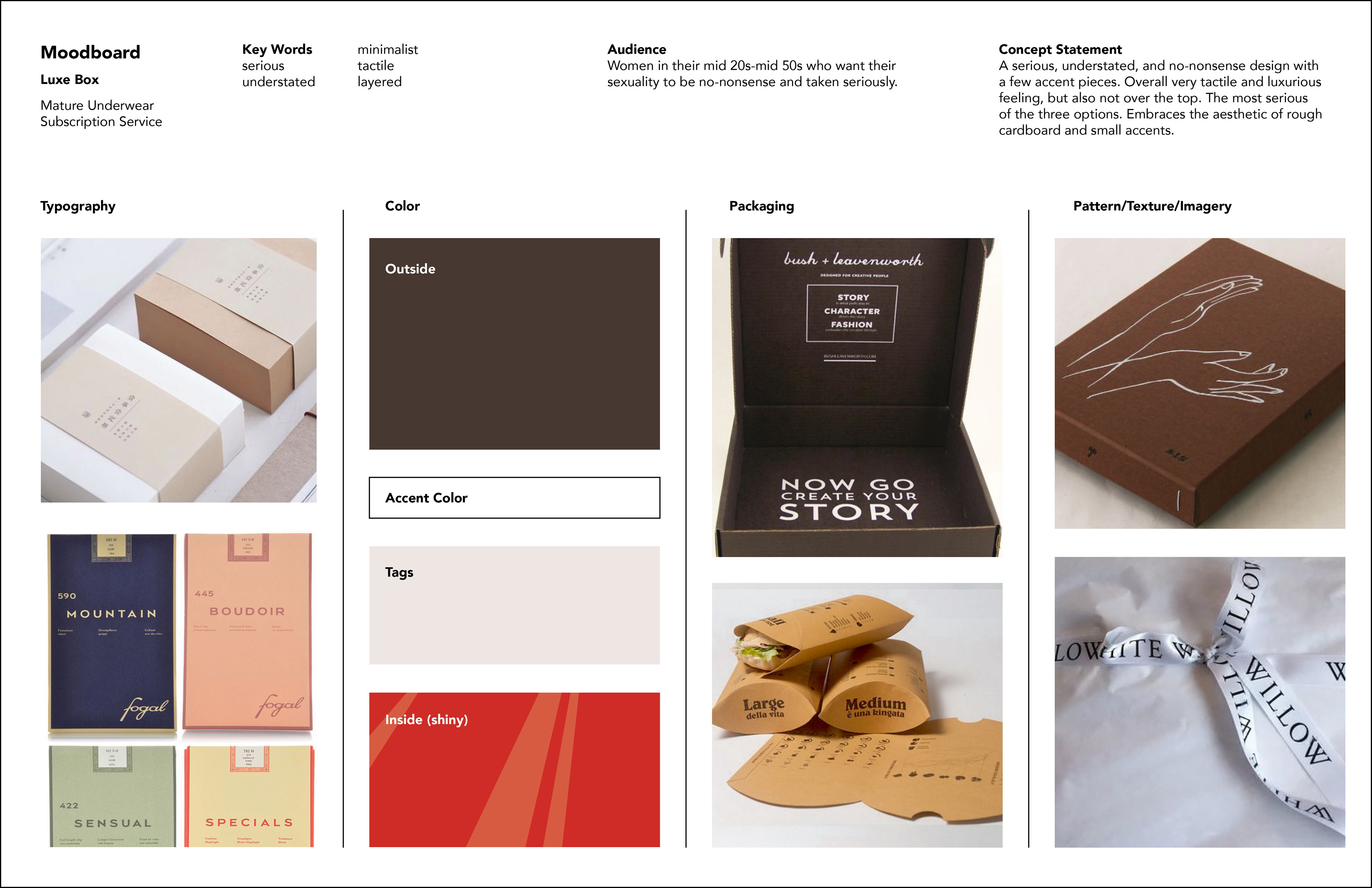 FINAL MOODBOARD
My final moodboard was a combination of the 1st and 3rd moodboards from the previous critique. I went with a dark brown, tan, and red color combination, to make something more visually unique from the usual 'sultry' colors of white, black, and red. By this point in ideation I had also decided on a concrete name for the brand, Luxe, and a more refined target audience.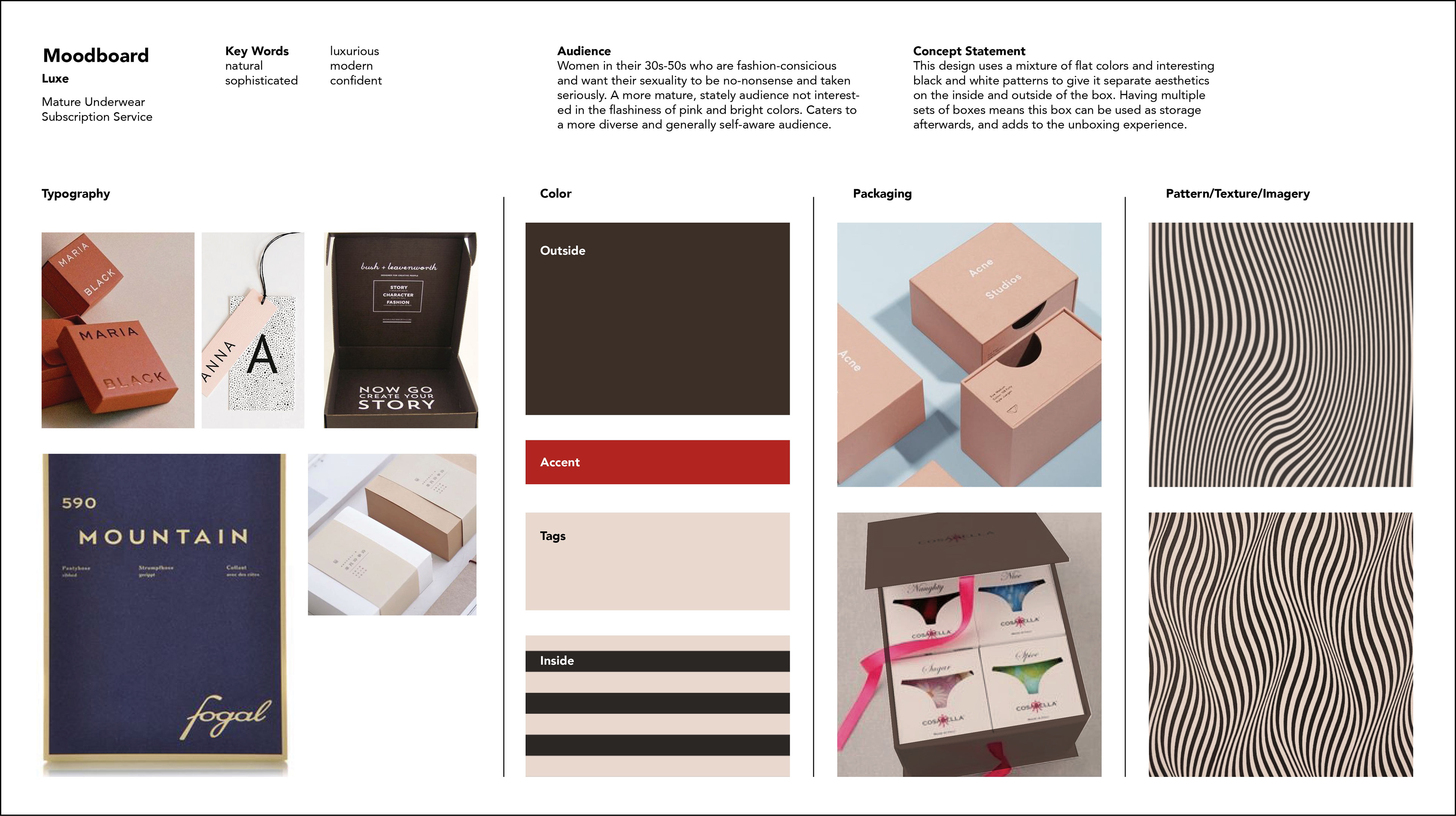 LOGO ITERATION
The Luxe logo went through several rounds of iteration before reaching its final appearance. I wanted to keep the branding simplistic and refined in appearance and toyed mostly with high contrast typography to add to the theme of luxury.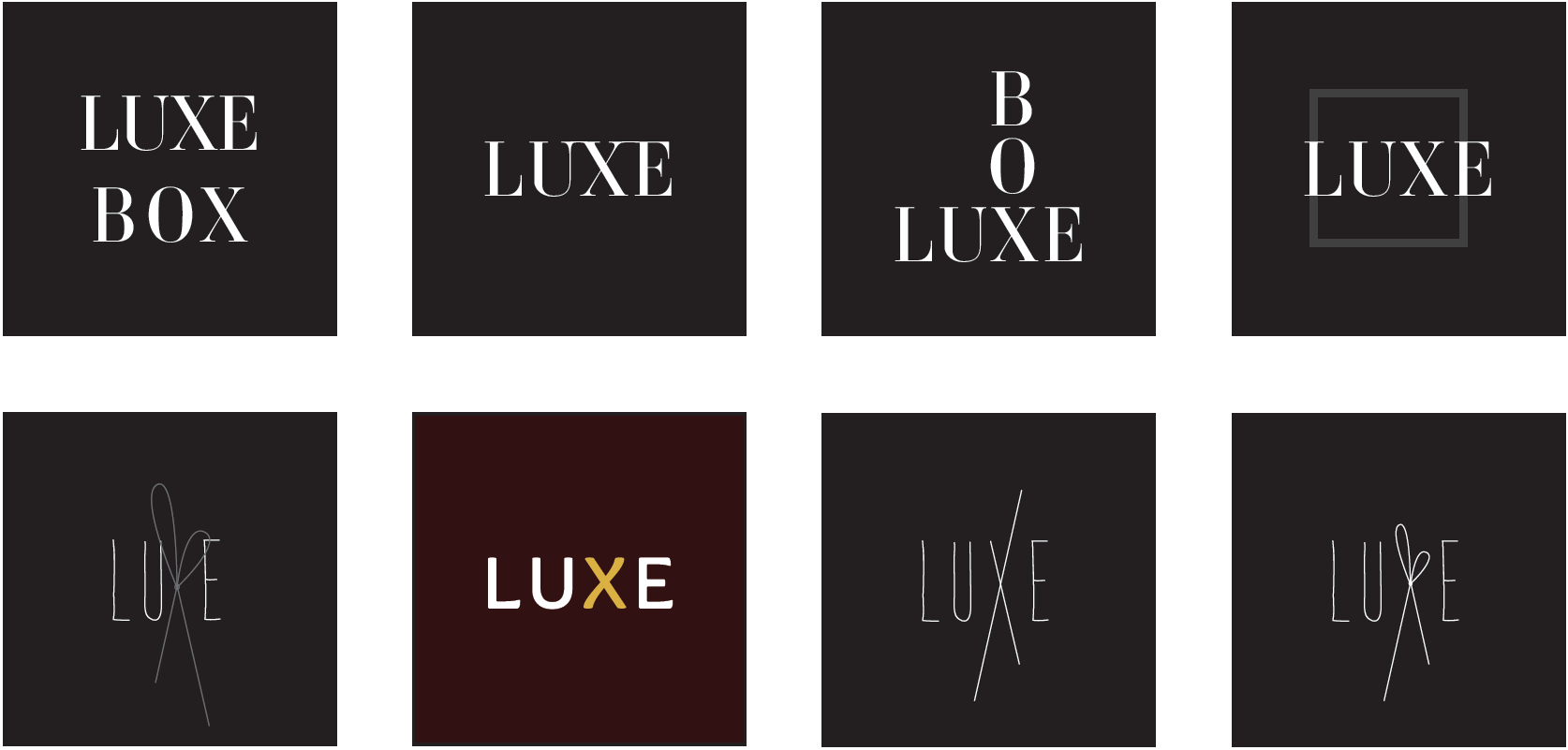 FINAL LOGO
Below is the final version of the logo, with some of the additional branding elements I decided upon later. The logo works as light on dark as well as dark on light, and despite the font being rather unorthodox it is still quite legible due to the shortness of the brand name.

CONSTRUCTION RESEARCH
The next step of my process was to plan out the dielines of the box I was creating, and how many individual elements would be involved. I compared many different subscription boxes online, regardless of their content, as well as a variety of packaging websites that sold mass-produceable box designs. I wanted my packaging to stand out as unique, but still be recognizable as a subscription service from a glance.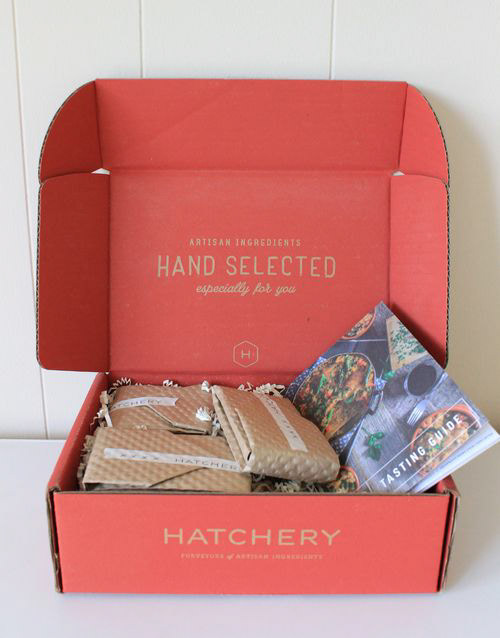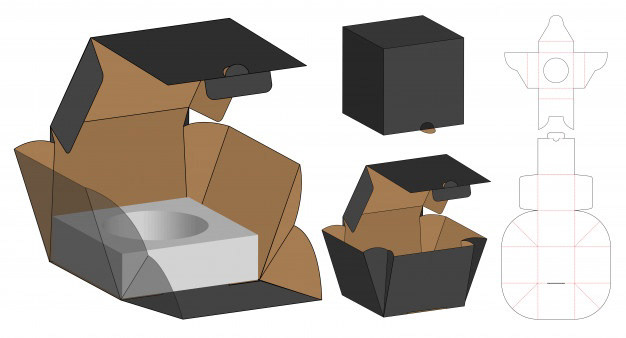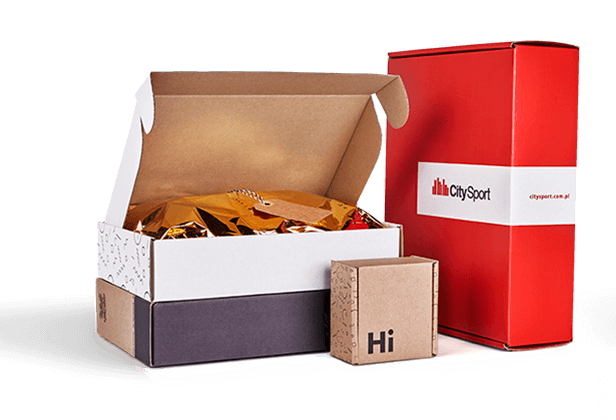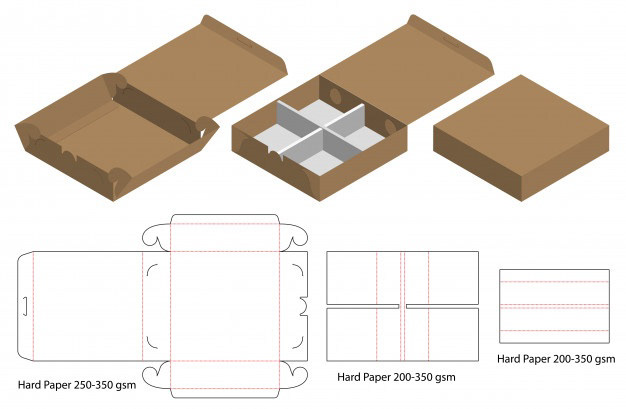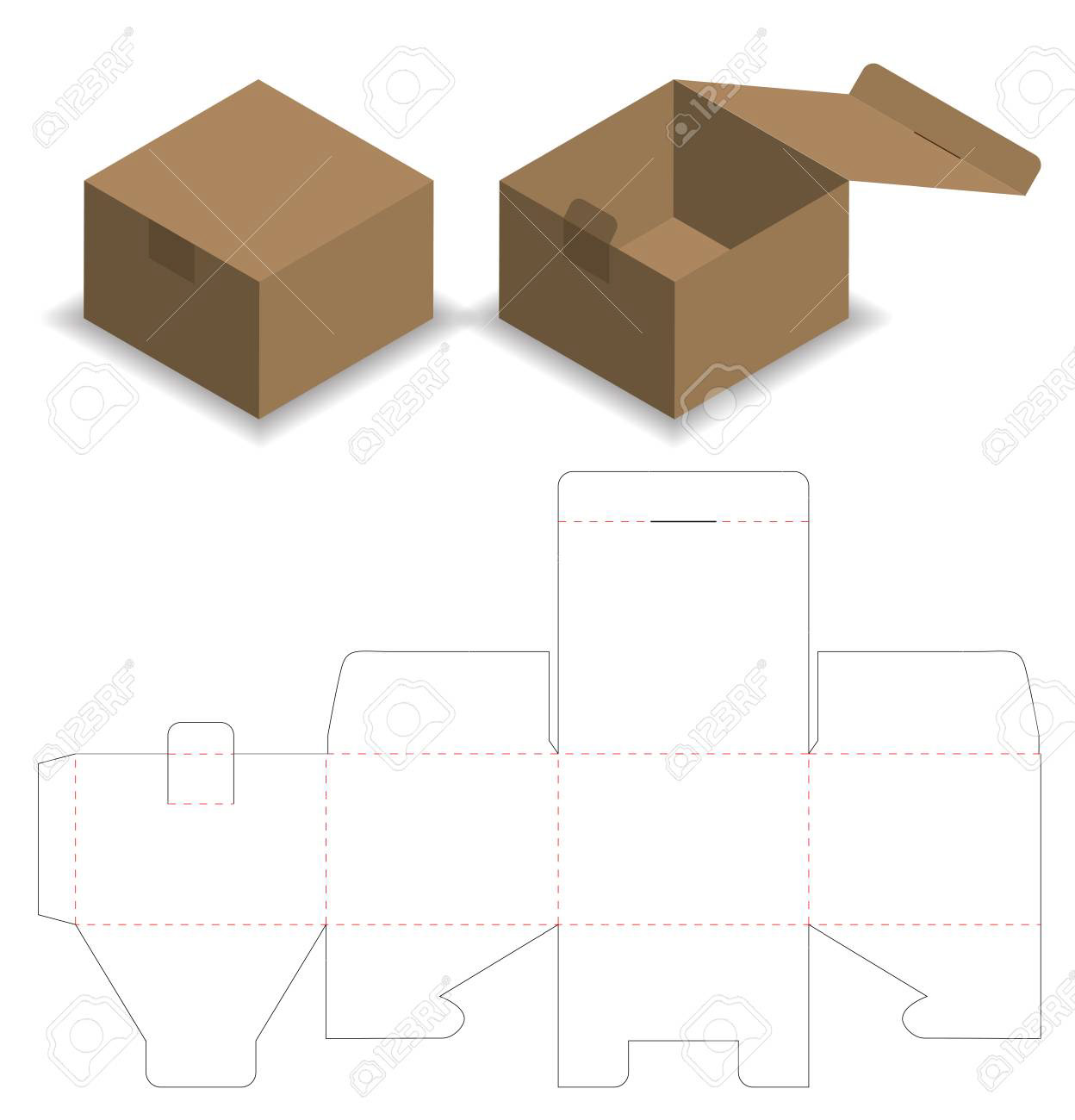 BOX CREATION
Before creating my designs in illustrator I explored different iterations of the box design using Procreate. This allowed me to quickly assess how all the elements would look together and where the colors and patterns were best applied. Once I decided on the design below, I switched to illustrator and started creating the patterns and other visual elements.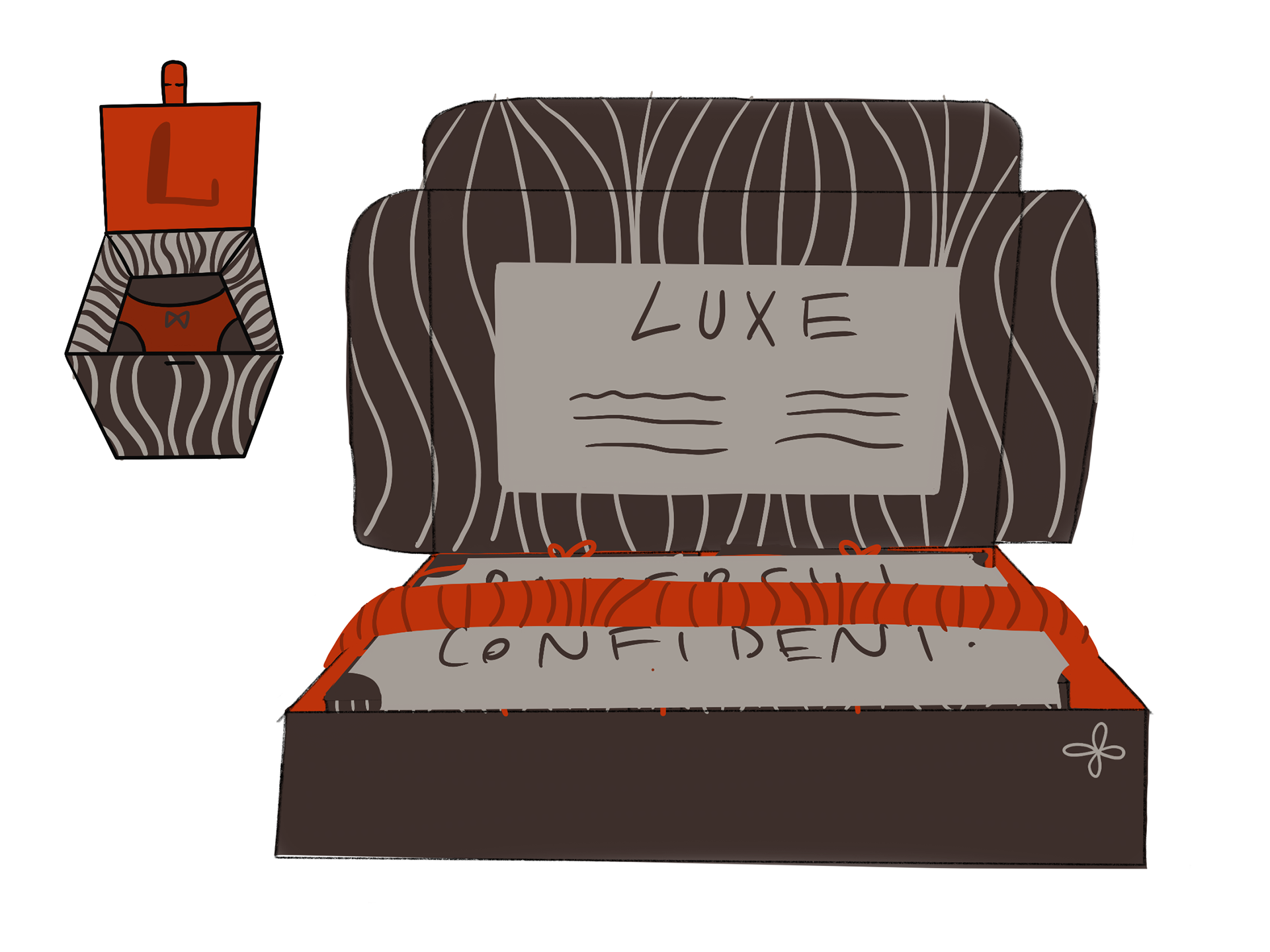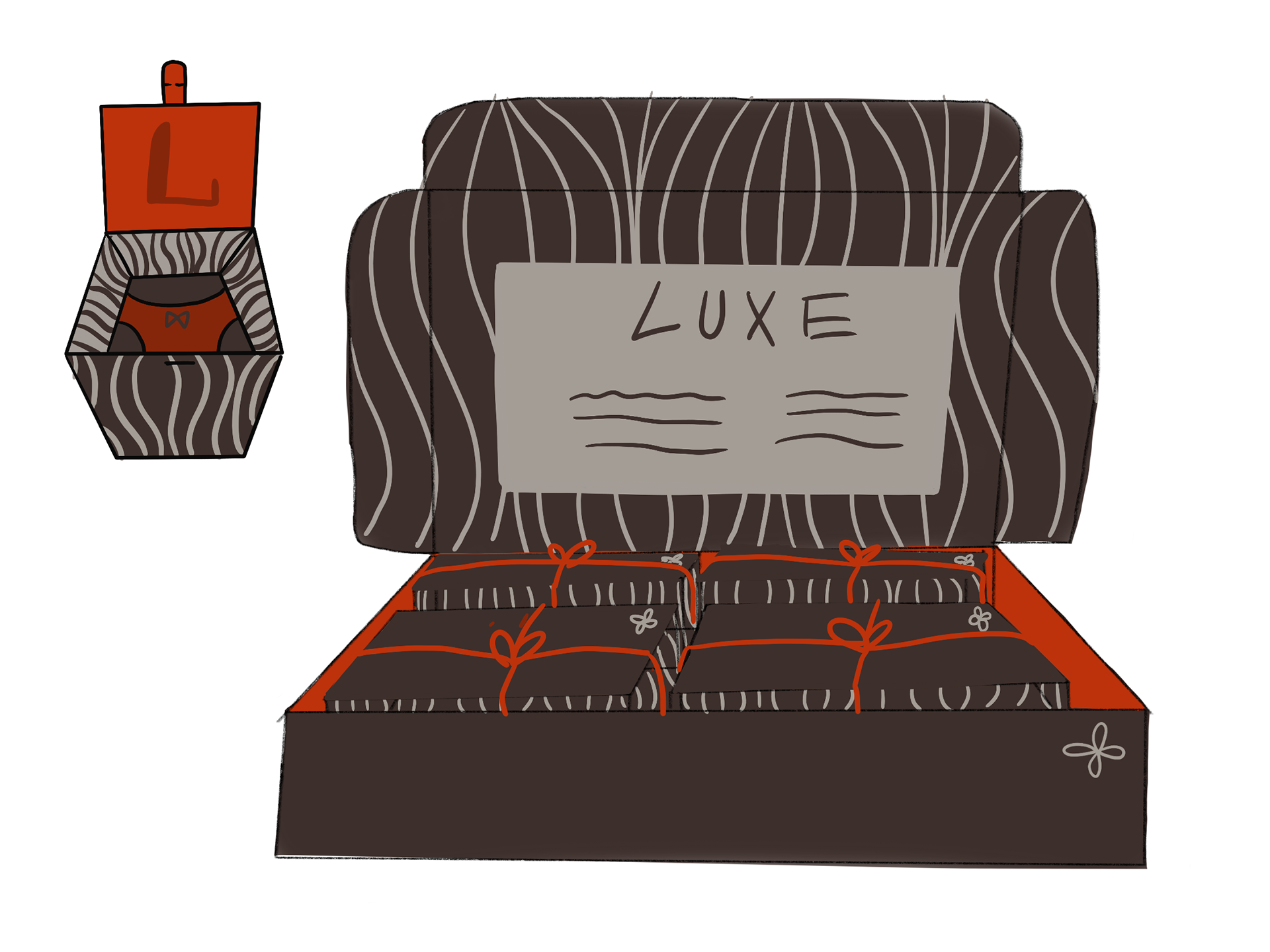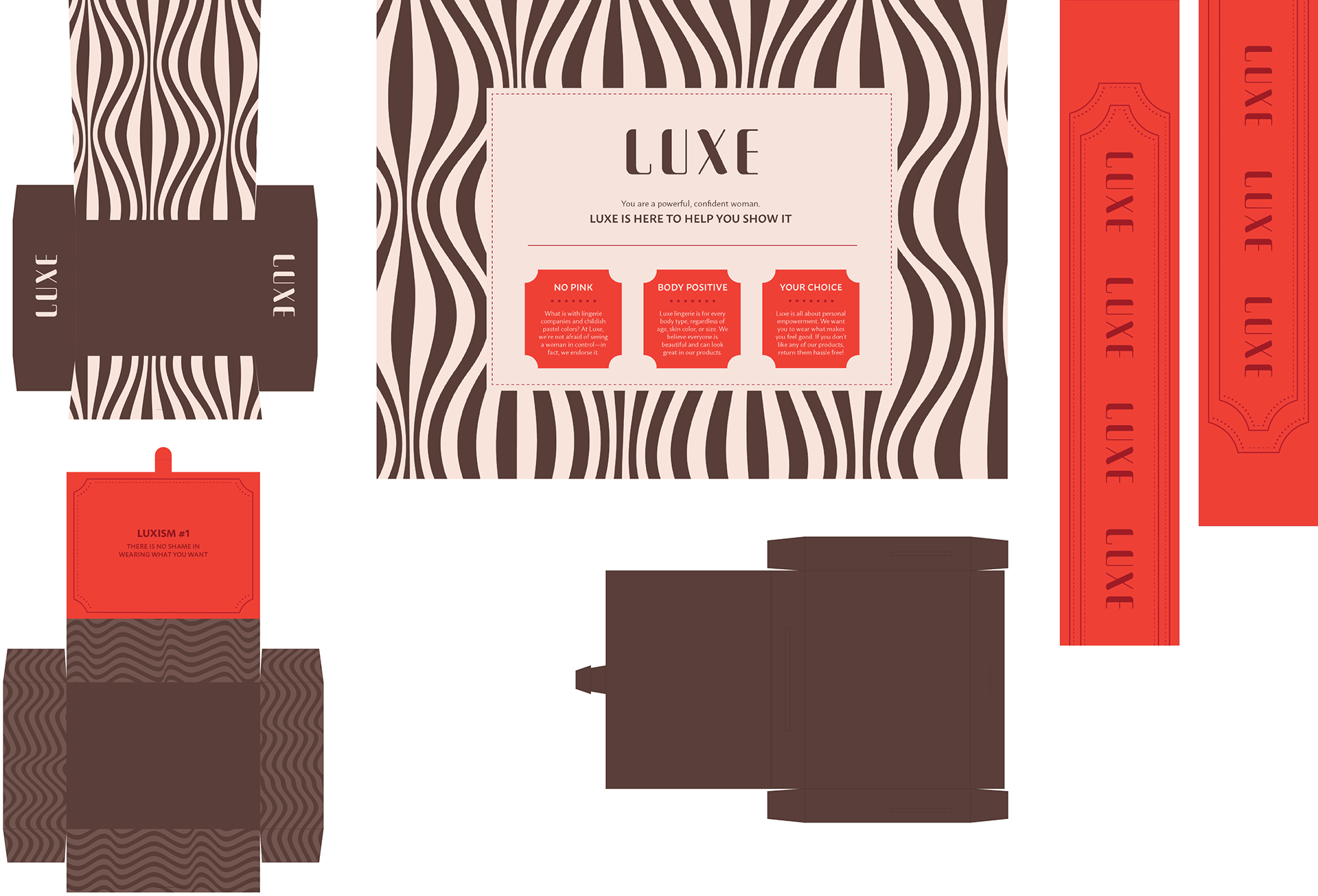 FINAL DELIVERABLES
After several rounds of test prints and three five dieline iterations, I created a complete mockup of my Luxe subscription box. Included were the outside box, bellyband, inspirational inner cover, four inner boxes each containing a pair of underwear, and four boxes that fit perfectly inside of them with slits to wrap the fabric around and inside. My hope was to create a drawn out unboxing experience for hypothetical buyers, as well as a beautiful multi-purpose box set that could be later used as storage for underwear if desired.